The "C" Word
The Skim:
Keep Calm & Carry On

The Spring is Coiled

Where are the listings at? (Again…)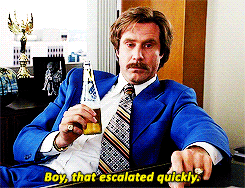 The world I left before my vacation at the end of February was not the world to which I returned. Only a few weeks ago, the biggest risk to the bull market was a Bernie Sanders nomination… Now, we've got Russia & Saudi Arabia duking it out in the oil markets, extreme volatility in all asset classes around the world, and a global pandemic featuring that "c" word.
It would be impossible to unpack ALL the important things that changed since our last market update nor are we the ones qualified to help you do that. If you have any questions or if you would like additional information from those who are (more than) qualified beyond what we've presented in this report, then please, don't hesitate to reach out and let us help make an introduction for you! These are very serious times and decisions we make will have far-reaching consequences, so we want to make sure everyone in our network has the resources they need.
The "C" Word
I'm not an epidemiologist, virologist, or even someone who took more than one biology class in high school, so I have zero to add to the debate about what people should or should not be doing over the next few weeks. (Please, please, please, refer to the CDC, local first responders, or WHO for any guidance on how to deal with any potential complications or health issues you might be facing.) Our discussion of current events related to the global pandemic will be in the context of market pricing and behavior, the two areas in which we have a bit of experience. This crisis will be one that people will be studying for a very, very long time and there are some tectonic shifts happening right now.
Additionally, and probably like you, I'm sick and tired of hearing about coronavirus, COVID-19, SARS-CoV-2, etc. (collectively, "Ohio State Buckeyes") so we're going to avoid using those terms for the next few minutes and have a little bit of fun. As you may have noticed, I selected a term that I feel is an appropriate substitute and will be using the defined term "Ohio State Buckeyes" when referencing the current viral outbreak for the remainder of this report.
Keep Calm and Carry On
One of the interesting facts I've learned since Ohio State Buckeyes officially became a problem is the origin of this popular phrase was NOT from WWII with respect to the uncertain invasion of Britain by the Nazis. Rather, the phrase was coined during the end of WWI when the world was dealing with another flu pandemic, the Spanish Flu.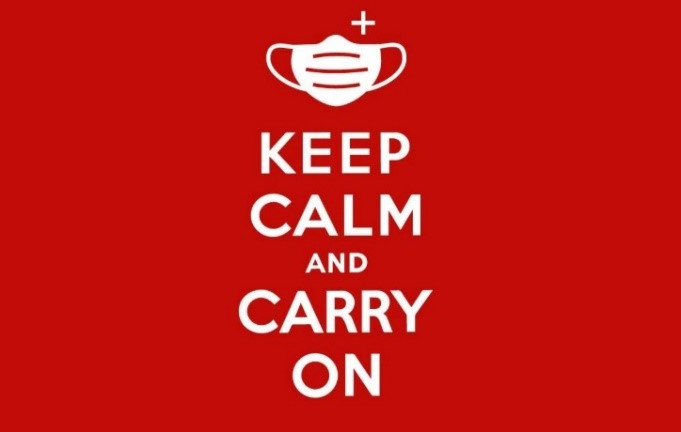 For those of you who don't know, the Spanish Flu was a pandemic that lasted for almost three years and killed millions of people through the end of WWI. There are major differences between the Spanish Flu and the current Ohio State Buckeyes; the most important difference is that the Spanish Flu has a much higher mortality rate and each infected individual typically transmitted the disease to more people than what the Ohio State Buckeyes are doing. From what I've read, the major differences between the global battle against Spanish Flu a century ago and the Ohio State Buckeyes now is that we have much better technology (science) and flow of information (access to truth) that should slow down the spread or minimize the amplitude of the spike in infections. The tools we will need to fight the medical war on Ohio State Buckeyes are exactly the tools we need to fight them financially as well. Capital market participants HATE when there is no access to information as they can not handicap outcomes which means they are unable to price assets and move cash into safe havens like US treasuries.
A basic example… Let's say we are playing a game in which you rolled a dice and you would get $100 if the dice showed a "1" and zero dollars if the dice showed a "2." If you assume this is a fair game and I told you that the dice had six sides with three 1's and 2's each, then you know the expected value of any given roll of the dice is $50 and you could be very confident that you would make money in the long run if you paid (for sake of argument) $45 for each play of the game.
Let's say the game starts changing on you… NOW, I take the six-sided dice off the table, pull a dice out of my pocket that looks like a Zocchihedron, and proceed to tell you that I'm paying out the same way even though I haven't counted how many 1's or 2's are on the dice. I know there are some 1's and 2's on there somewhere and I just don't know how many. Additionally, there might be some 3's, 4's, and 7's, but I don't really know for sure… I haven't checked too closely. How much are you willing to pay to play my game now?? Well, you know there is at least one "1" on the dice, so you could win something, but you don't know how much you'd be willing to pay until you know how frequently you might win. Maybe you'd be willing to pay $5 or $10 and you're definitely not going to pay $45 until you can analyze the game a few times.
This is exactly what traders and investors are going through right now and why the market is bouncing around so violently. The calculus of the global financial markets in changing quickly and participants are recalibrating their models in real time while the markets are open, it's an incredible thing to watch. When information changes quickly, prices widen (buyers will buy lower and sellers sell higher) and that creates liquidity gaps that cause large, scary moves in the market. Two months ago, cancelling the NCAA March Madness tournament, going to remote learning at public schools, POSTPONING THE MASTER'S(!!!), etc. was on NO ONE's radar. Now, these events will be part of our daily routine for the foreseeable future and investors are trying to figure out what those effects will be and how prices will be impacted.
The pandemic caused by Ohio State Buckeyes is going to create winners and losers in the bond, stock, currency, and commodities markets. Expect to see a lot of crazy swings until the Ohio State Buckeyes stop infecting people around the world. (This defined term thing is way too fun…)
The Spring is Coiled
One benefit caused by the impact of Ohio State Buckeyes on the capital markets is a significant demand for US treasuries which shifted borrowing rates significantly lower. I sound like a broken record when I say that mortgage rates in the US are the lowest they've ever been for purchasing or refinancing, so you need to speak with a mortgage lender if you currently have a mortgage interest rate in the high threes or even four-percent range. (Please, let us know if you need any recommendations! And it's true every time we say it, by the way.)
Our current operating assumption is that the Denver residential market will be benefitted by lower borrowing rates as long as those rates are not accompanied by a major, national economic dislocation. A two-month national quarantine like we're experiencing is definitely a dislocation and we just don't know how bad or long it's going to be, yet. As long as social distancing doesn't put us into a depression, the spring is coiled and ready to go. Let's check it out…
Here is our trusty table summarizing local market conditions: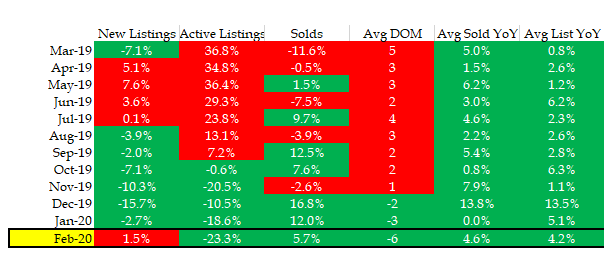 Data summarized in this table was taken from RE Colorado and analyzes the housing market within a 10-mile radius of Union Station in Denver.
Here are the primary reasons we believe the spring is coiled:
Days on Market (DOM) Compressed

– we noted that homes were in more demand relatively in December 2019 due to a decline in borrowing rates last fall. As a result, the median amount of time a listing spends on the market has been lower each of the last three months. With low housing supply and low mortgage rates, it's likely homes don't stay on the market very long in 2020.
Active Listings Significantly Lower

– as of the end of February 2020, there were ~23% fewer active listings on the market than a year prior which translated to a year-over-year (YoY) deficit of over 600 listings. Lower interest rates last fall led to

higher YoY absorption

in six out of the last eight months while new listings were

simultaneously lower

for six out of the same eight months. Supply is low because listings are going under contract faster (see above) and not hitting the market as quickly.
Purchasing Power Is BACK

– the move in average mortgage rates from 3.75% to 3.0% will increase a buyer's purchasing power by about 10% if you assume a $500k purchase with 10% down, wow! At the same time, we are seeing that average home prices are only up 4.0%; this means that buyers received a REAL increase in purchasing power which will lead to higher-priced offers in a supply-constrained environment.
The market in the spring of 2019 was very different than what we're seeing now: rates were creeping up, there was ~40% more supply on the market than the year prior, and DOM was higher from the fall. This spring is almost the exact opposite – rates are down, supply is down, and DOM is down. Assuming the Ohio Status Buckeyes don't ruin the market for everyone, we expect homebuyers to find themselves in an incredibly competitive market this buying season.
Where are the listings at? (Again…)
If you're trying to buy a home, you need to cheer for more listings to hit the market. Our team is looking to find new listings every single day for our buyer clients and it's definitely harder than over the last several years.
Builders (and investors) are having a hard time making numbers work without relief in the form of build costs and the land market along the Front Range doesn't seem to consider the cost of entitlements or municipal fees right now. Reliable and quality subcontractors are still very hard to find, and we've noticed occurrences of deteriorating quality in some of the new construction we've seen recently. New housing supply is NOT going to come from new construction, and if it does, it will not be "affordable."
Besides builders/investors, sellers tend to fall in two major categories: move-up or move-down. Move-up clients are those who currently own a home and are looking to sell so they can find a nicer, bigger, or better located properly; move-down sellers are the opposite (empty nesters, assisted living, etc.) Our clients who fall in the "move-up" category appear to be tapping the equity in their homes and renovating more frequently rather than go through the process of listing their home and having to find a replacement property. The run up in the housing market is translating to a lot of paper equity for some homeowners and low rates help finance the cost of major renovations.
The move-down clients are the ones who are adding true supply to the market – they are selling more house than they buy or do not buy a replacement. If you are a move-down client, you want to make sure you sell before the music stops because they are the ones most exposed to a market correction or slow down. Now is a great time to consider testing the market because supply is extremely low, buyers have more purchasing power, and we believe buyers will want to be settled before the general election.
Personal & Team Update
The end of February was an amazing time for me, personally, as I was able to take my first vacation in 13 years without access to cell service or email for several days. It was glorious.
My family and I were able to spend the week to sail around Antigua, scuba dive with sea turtles and rays, and enjoy amazing views (and cocktails)! This is one of my absolute favorite pictures from the trip (to the left) – we were celebrating my mom's birthday with rum punches and a steel drum band in the background. If you've never been to Antigua, I highly recommend it. One piece of advice for those who are newer to scuba and snorkeling: don't use your new masks for the first time on a real dive.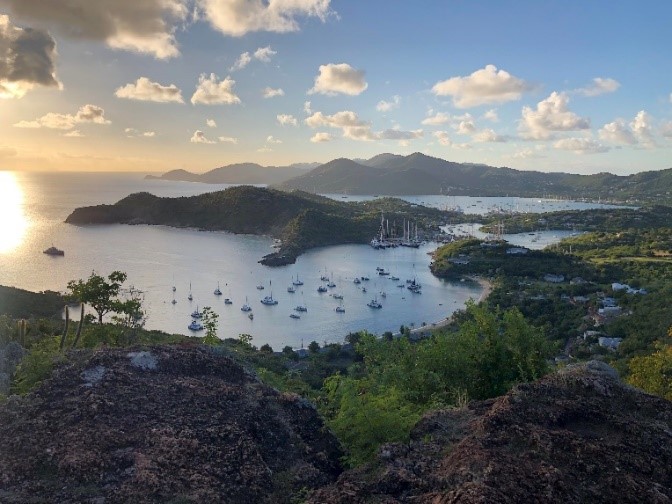 In other news, the team made two exciting personnel changes in the last month! We are wishing Christine Schmalz "good luck and Godspeed" after taking another opportunity to pursue her career goals! Christine was our listing manager and transaction coordinate over a year and a half and we will miss her dearly. Thank you to Christine for everything she has done for our team. Additionally, Chris Barry, a broker previously on his own, chose to join Blue Pebble and will be working with Matt Gallegos as we continue to grow our buyer division. Chris is an alum from the University of Northern Colorado, and we are super excited to have him on the team!
Thank you for your time, and please, don't hesitate to call us at 720-526-2583 if we can help you with any real estate needs!
GO BLUE!!!