"February – The month of love…?! No wonder it's the shortest in my calendar."
Dinesh Biran
"He's Heating Up!"
The Skim:
Fed Still Has "All Clear!"

Get ready for the spring buying season! (Again)

Where are the listings at? (Again)
Punxsutawney Phil predicted an early spring several weeks ago and we're hoping he's right! In Colorado, Mother Nature needs to get on the same page because she is trying her best to keep our market from officially "waking up" with all the recent snowstorms. (Hey, at least the mountains got some awesome pow!) For our purposes right now, though, the result of the crazy weather is that this update will read very similarly to the note we sent last month.
The Fed Still Has "All Clear!"
The only game in town going back to 2008 is the US Federal Reserve (and the other major international reserve banks, I guess). "Don't fight the fed" is a lesson that every investor learns one day and it's surprising to me how little fundamentals matter when the elephant in the room is pumping cash into the system at alarming rates.
That's what happening right now – the elephant in the room is pumping cash into the credit markets. Last September, there was a lot of stress in a little-known niche market called the "repo" market. Major banks use this market to fund themselves in the short-term through lending/borrowing short-term cash and securities. Here is one explanation of what is happening and you might need a master's in finance to understand it…
Why does the Fed need to pump cash? Well, the short story from my perspective is that the regulatory environment changed dramatically since the financial crisis and one of the ways those change is causing stress is that market participants are strongly incentivized to hold more US treasuries in reserves. (By the way, this is a GREAT way to keep domestic borrowing rates down… Just force the private sector to do your quantitative easing for you!) When everyone is required to own the same thing, you get weird liquidity gaps, and the Fed is stepping in by injecting cash into the system.
So, what does this mean for us on Main Street? More cash in the system and a systematic demand for treasuries means that rates should stay lower for longer than people expect; if you click on the "ALL" historical chart, you can see how rates are at all-time lows even while the economy (in theory) is in the best shape ever. This is a good sign for those who (like me) believe the run in Denver real estate will end with an increase in rates first before demand for housing dries up and or oversupply cuts the bull run. So, for now, game back on!
Get ready for the spring buying season (again)!
Let's check in on our trusty market monitor:

Data summarized in this table was taken from RE Colorado and analyzes the housing market within a 10-mile radius of Union Station in Denver.
Green on the left half of the table is a sign that prices are likely to go higher and you'll see a lot more green recently. However, in 2018 and the start of 2019, you'll see how our monitor displayed more "red" when the market was a little bit softer. We commented on the slower market during this time period and it took several months for the market to work through its higher supply and slower pace.
Supply levels came back down just as the market was hitting its slow season, and that's why it didn't feel like the market was moving as quickly last fall even though the monitor started to show signs of life. Nominal transaction volumes are much lower in the second half of the year, so even with higher normalized transaction rates, it didn't feel as hot.
The first half of the year is when most of the transactions along the Front Range happen, so the market is starting to feel hot again. Mortgage rates (see the previous section) are still hovering new all-time lows which is giving buyers the green light to move forward on their purchases. Multiple offers and bidding wars are back when properties are priced well and we're even starting to see more traffic in our luxury price points. Anecdotally, our team is also fielding substantially more incoming inquiries about buying right now suggesting that buyer demand will be strong for least a few more months.
Where are the listings at??? (Again)
If you're trying to buy a home, you need to cheer for more listings to hit the market. A year ago, there were an extra 600 listings on the market within 10-miles of downtown Denver which gave buyers more negotiating power and selection. Starting in October of last year, the extra supply vanished, and we are back to supply levels last seen in 2018.
The last six months had fewer listings hit the market than the previous year, and obviously, this is the main contributing factor to fewer homes being on the market. In addition to fewer homes coming up for sale, lower rates and increased buying activity going back to last September are also contributing to those homes being sold faster than previous years which is a double whammy keeping supply levels very low.
We are advising our clients who are selling homes to consider pushing their list prices higher over the next three months as we believe sellers will have more negotiating power this spring than they've had in the last couple of years.
Personal & Team Update
You are likely receiving this email while I'm en route to Antigua for my first vacation without cell service or internet since I started my career back on The Street in 2007. When I booked the trip with my family (yup, the whole fam!) I wasn't sure how our little team of three would handle my time away. I'm so thankful for the support we've received over the last three years that's allowed us to grow and deliver even better product to our clients. We recently added a new broker, Tyler Vos, who will be focusing more on the listing side and is a super creative talent and I want to share our newest team photo with you below!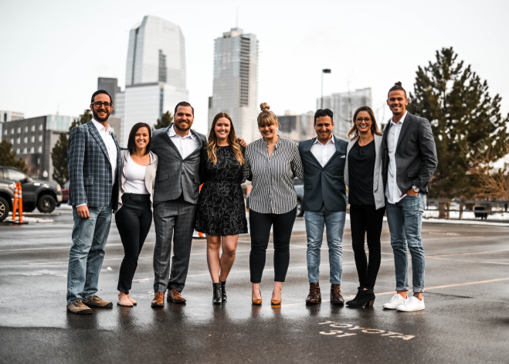 We are looking to add a couple of more brokers to the team this year, so if you know of anyone who wants to work with us, please feel free to let me know!
The rest of the Blue Pebble team will be around to take care of you while I'm gone! Please, give the team at ring at 720-526-2583 and let us show you what the premier experience in Denver real estate.
Best,
Jared