Headed Up the Rollercoaster
** All market information and data is taken from RE Colorado, IRES, or PP MLS. If you believe there is an inconsistency or misstatement, please let us know!! **
The Skim:
US Economy Hanging In

Get ready for the spring buying season!

Where are the listings at?
Welcome back from the holidays! We hope everyone was able to enjoy their time over the break and has had a great start to 2020!
You know that feeling when you're heading up a rollercoaster full of anticipation and really excited? That's how we feel about Denver's housing market right now. The spring is coiling…
With the coming of the new year, we are now in the "pre-Buying Season" and are already working with a number of clients with plans to move over the summer. Anecdotally, a number of our professional partners (lenders, insurance professionals, and financial advisors) are seeing a pick-up in activity with respect to new loan applications, policies, or general questions about the market. Based on this initial feedback, we are expecting this spring to be very active.
US Economy – Hanging Around
Not much changed with US economic conditions over the last month. Many of the points we made in our previous Market Insights report still hold true and there were not many economic data points of consequence released over the holidays.
On the employment front, the US added 145,000 jobs in December which was slightly below the Street's expectations of 160,000; the unemployment rate is unchanged from last month at 3.5% which is still at a 50-year low. This number was released last Friday and the bond market didn't seem to care very much. We firmly believe that the pace of Denver's spring buying season will be inversely correlated to interest rates, so we are keeping a very close eye on the bond market and US data. If the economy improves and rates go up, we expect mortgage rates to increase, and this will hurt the market's ability to afford homes at current price levels.
The stock market is entering earnings season and the financial powerhouses are all reporting this week: Citi, JPM (knocked the cover off the ball), GS, BAC, & WFC. These companies will likely have some interesting commentary on liquidity conditions and short-term demand for capital. Additionally, we are looking forward to AMZN (Jan. 30th), Macy's (Feb 25th), Ford (Feb 4th), and other consumer facing companies. As you might recall, there has been some mixed commentary as well as definite winners & losers from holiday shopping. We will be watching these earnings reports for commentary on the health of the consumer and their willingness to spend money.
Get Ready for Buying Season!
The residential real estate market along the Front Range is much more seasonal than many of our clients expect; we see most of the activity for the year happen between March & September. As a result dynamic demand characteristics, real estate prices are extremely dynamic during the "buying season." The graph below shows our analysis on monthly changes in the average sold price of a home near Denver. The small blue dots show individual price changes over the last 10 years; as you can see, it's not uncommon to see 5%+ swings month-to-month in the market out here.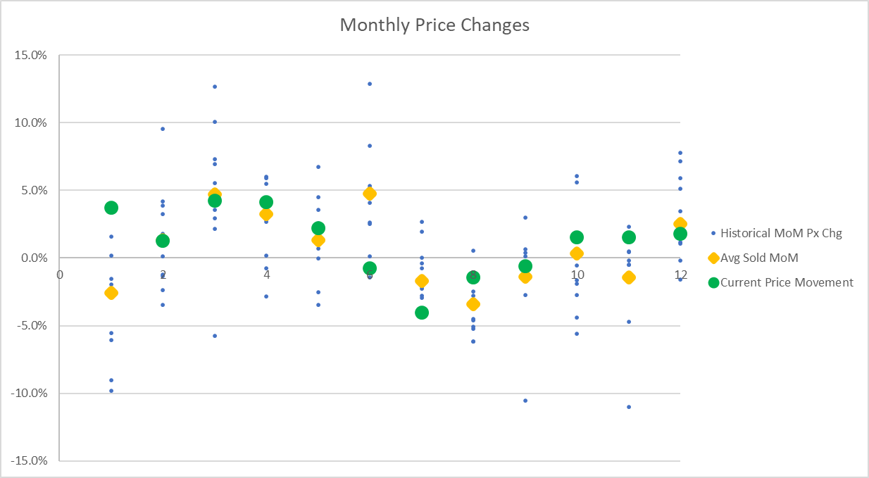 For median-priced homes, it would not be unusual to see a 15% price increase from closing prices in June vs. six months prior in January. This is the reason why there is so much emphasis on pricing your property properly and getting the timing correct. You will have an incredible opportunity to sell a property and the market goes away very quickly if you are off the mark.
Real estate brokers are very aware of this phenomenon and use it to their advantage when pitching to take listings. You should expect that prices will be up significantly in a few months; so long as mortgage rates stay below 4% and absolute supply levels remain unchanged, sellers are likely to get their asking prices.
Who wants to sell a house? Bueller…?!
Side Note: One of the best parts of being an entrepreneur is meeting all sorts of interesting people, including young Gen Y-ers who continuously remind me of my age. In a meeting recently, I made a reference to the best movie scene, ever, and my colleague had never seen the movie and didn't seem to be all that interested in it! If my references are getting too obscure, and I really hope "Bueller" does not cross that threshold, please let me know.
Anyway, back to the real estate… Let's check on our summary of conditions for Denver's real estate market:

There are a few items of interest in the table.
December was the fifth month in a row with less supply hitting the market ("New Listings") versus a year prior.

The second half of the year saw increased market velocity ("Solds") as a result of lower interest rates and some negotiating power in the second half of the year.

The median price of a home in our market area was up 14% year-over-year from December 2018 – this meant that prices did NOT come down as expected this fall and stayed relatively unchanged through the holidays.
These data points suggest that the market is primed to rise in the short-term. Less supply on the market, lower interest rates, and the election next fall will incentive market participants to transact in the first six months of the year.
Whether you are buying or selling real estate, the BEST way to protect yourself is to do your diligence and be organized. No real estate sales team is better equipped to advise you on your specific situation and help you execute in an efficient manner. Give us a call at 720-526-2583 and let us show you the premier real estate brokerage experience.