** All market information and data is taken from RE Colorado, IRES, or PP MLS. If you believe there is an inconsistency or misstatement, please let us know!! **
The Skim:
Thank you.

The US economy hasn't imploded, yet.

Rates are holding – good for affordability.

Supply coming down – CRAZY SPRING?
This will be the last (and shortest) Market Insights report for 2019 and I want to take this opportunity to wish you happy holidays and new year! Our team can't wait for 2020 and we hope the new year brings you, your family, and those you hold dear health, wealth, and happiness!
Blue Pebble is scheduled to close 39 transactions for over $17 million in volume in 2019 which represents over 30% growth from 2018. Our team started the year with three amazing brokers and now includes eight incredible real estate professionals: five dedicated brokers, our amazing Client Relations Manager, our best-in-class transaction coordinator, and lil 'ole me. Nothing we do would be possible without YOUR support and we want you to know how thankful we are to have you in our corner.
WELL, THE ECONOMY HASN'T IMPLODED, YET…
It was hard not to take note of the US Fed lowering their target rate this summer; we highlighted that action in our August Market Insight Report. Typically, the decision to lower rates is a harbinger for a recession period and as a result, we are keeping an eye on the high-level, US economic data. That data is not pointing to our recession, yet.
Long-term inflation expectations recovered slightly from the summer when rates were cut and are inline with long-term interest rates and economic growth projections. Am I allowed to say that it's kinda boring when everything is lining up and not showing any real return?
Wage growth continues to outpace inflation which will help Main Street, and I do not believe this trend will reverse given unemployment rates that register new lows month after month. Currently, the unemployment rate stands at 3.5% in the US and if you are looking for some fun holiday reading besides this newsletter, I would encourage you to read "A Tight Job Market Insulates a Slowing Economy – and Perhaps Trump, too" by the Wall Street Journal.
Don't forget that the next downturn will be the first in the post-quantitative easing era. Recessions never happen for the same reason twice and they always look a LITTLE different from previous times. Keep a vigilant eye on leading indicators while there doesn't appear to be anything scary happening, yet.
RATES ARE HOLDING – GOOD FOR AFFORDABILITY
In our November note, we noted the current relationship between long-term interest rates, the mortgage market, and the pace of sales in Denver. The relationship is still holding even though rates have not moved very much over the last month. The image below captures the shift in US interest rates over the last year: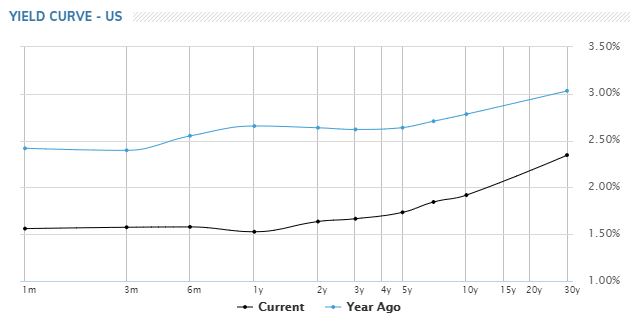 ** Yield curve graph from MarketWatch.com showing the change in US interest rates from a year ago. **
The drop in rates experienced over the last year decreases the annual cost[1] of a mortgage by $2,500 per year or allows a borrower to qualify for an 8% higher purchase price while keeping monthly payments constant. On average, home prices in Denver metro were up 3-5% versus last year and there is no doubt that the price appreciation was facilitated by buyers who could push budgets higher due to lower rates.
The biggest year-over-year price gain was registered in November and this is likely a function of rates holding steady coupled with the FIRST month of the year with less supply (see below) versus last year. It's easy to see that issues with purchase market affordability will be a lower concern while rates stay low; however, the market will definitely feel pain when prices and rates push buyers to the point of maximum budgets.
WHERE ARE THE NEW LISTINGS?!
When people ask what I do for a living, I'll always answer "I'm a real estate broker." It's almost a certainty that the person with whom I'm speaking gives me a weird look and says, "Wow, things must be going GREAT for you right now!"
From this point, I make sure to shift the conversation to discuss how brokers' compensation is more closely linked to transactional volume versus prices. Prices are going up because they just aren't a lot of homes on the market (and it's really frustrating for us real estate sales professionals)! This is general behavior we've been tracking for several years and explains the massive price appreciation Denver has experienced since the financial crisis due to large immigration and an undersupplied housing market.
As you'll see in the second column from the left below, "Active Listings" or the aggregate amount of housing units on the market, had been materially higher than last year until September. The increased supply earlier this year explains why this spring just didn't have the "POP" that most sellers expected.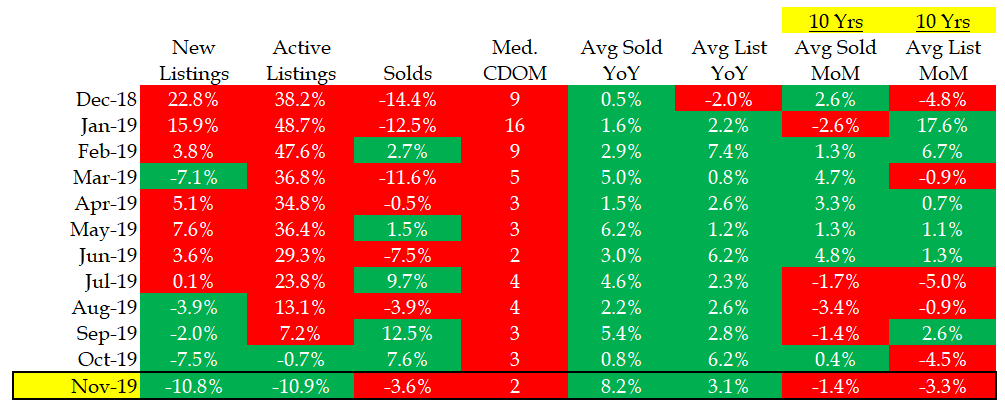 ** Our data table summarizing market data within 10-miles of Union Station in Denver. **
Above average buying activity (third column from left, "Solds") in the second half of the year with below average new supply (first column on left, "New Listings") is now leading to LESS SUPPLY year-over-year for the first time in almost a year and a half. Less supply on the market next spring will make it harder for buyers who are likely to compress a year's worth of buying activity into the first half of next year. Simply put, making huge financial decisions ahead of big political elections is tough to do. Less supply will also make it more painful for buyers who will have to deal with higher prices and higher monthly payments without other options coming on the market to purchase.
We are setting up for an interesting winter and potentially crazy spring. Now is the BEST time of the year to get organized and prepare for your move. Give us a call at 720-526-2583 and let us know how we can help!
[1] This assumes an initial purchase price of $500,000 with 10% down payment on a 30-year, conventional, fixed-rate mortgage.