** All market information and data is taken from RE Colorado, IRES, or PP MLS. If you believe there is an inconsistency or misstatement, please let us know!! **
The Skim… (For a quick read.)

Macro – The US economy is the best of the worst.
Demand – People buy houses when rates go down (like now).
Supply – It's already been a year at new, higher supply levels.
Net/Net – Now is a good time to look for homes and investments with low rates and lower prices. Next spring will NOT be a "no brainer."
The time of year when the season changes from summer to fall is one of my favorites. It's an incredible time to enjoy nature along the Front Range, watch your football team on TV, and start preparing for the winter and holiday seasons.
The real estate market in Denver metro follows a seasonal path, too, and we are finally coming out of the summer buying season. August typically represents the time of year when the market slows down materially, and we enjoyed a bit more activity later into the season than is normal (we will discuss later)!
Let's start with the Macro…
If you're looking for a discussion of the impeachment proceeds, you can skip this section; it ain't here. At the end of the day, those proceedings will not have material impact on the real economy nor our local real estate market. However, it's my opinion the impeachment process introduces a bigger risk to higher interest rates than the talking heads are discussing. If we do see higher rates as a result of impeachment, there would be a negative impact on the real estate market. In the meantime, economic data is paving the way for rates to stay lower for longer.

The Americas are still the "bright spot" of global manufacturing in that our situation is not deteriorating like many other economies around the world. Below, you'll see a table showing the relative strength of the manufacturing sectors in several European economies and it's hard to get excited about putting capital to work here. 2010-Jared is shaking his head at 2019-Jared for allowing a thought about investing in Greece to cross my mind…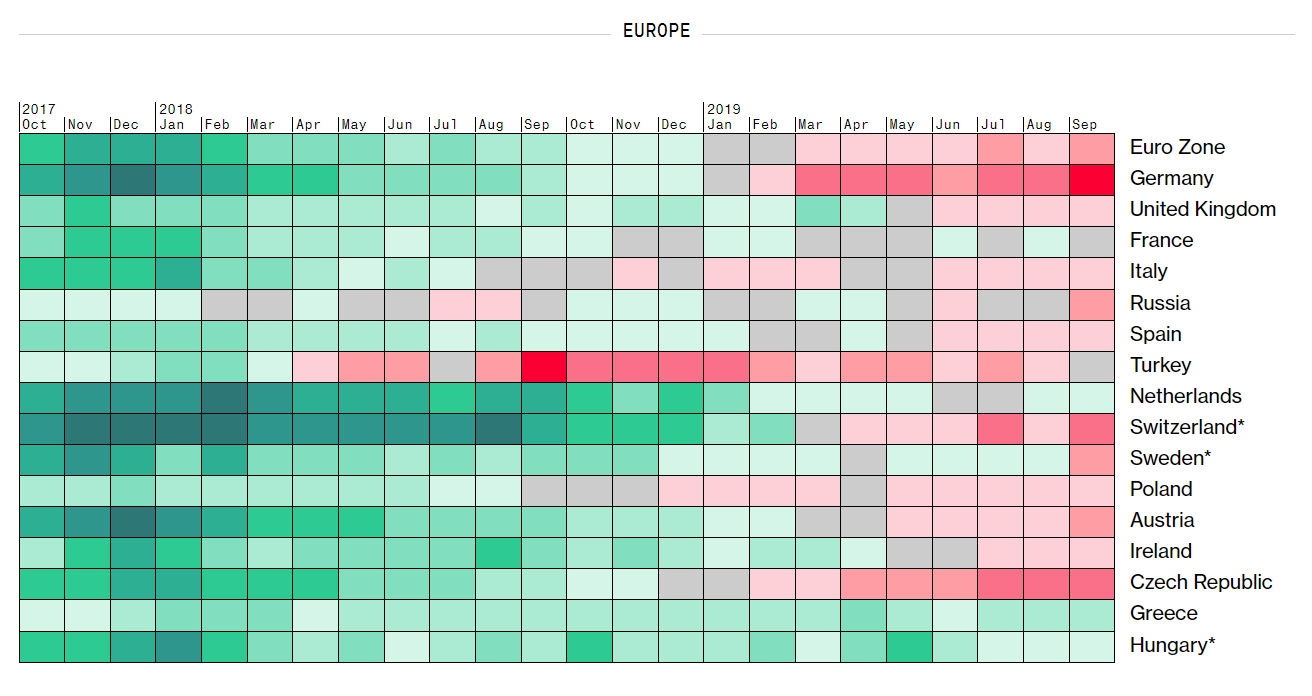 ** Table from Bloomberg on October 7, 2019 showing global purchasing manager data in Europe is showing material weakness. **
The fall is also the time of year when weird things tend to happen in the capital markets. Senior risk managers come back from summer vacations, evaluate their positions, and move capital to prepare for next year. That capital needs to move when there is liquidity in the market and anyone who needs to reposition after Thanksgiving knows it can be difficult. Keep an eye on the public markets over the next two months as risk managers will be pushing the capital markets around a bit.
Real Estate Demand in Denver…
Let's check in on our dashboard for the health of the residential real estate market in Denver. Last month, we said we are testing our hypothesis that the market in Denver is going to be strongly inversely correlated to interest rates and our intuition seems to be proven correct so far based on last month.


** Table analyzing data from RE Colorado showing general market conditions within 10-miles of downtown Denver. **
There was a big drop in interest rates in rates in August and we saw an additional 200 homes sold in September 2019, a year-over-year increase in sold units of almost 10%. The increase in sold units was primarily driven by sales of detached ("normal") homes and initially confirms our suspicion about the strength of the interest rate drivers in our market.
Heading into the end of the year, available supply and the pace of absorption typically decreases materially. If you are looking to buy a home, the fall and winter are GREAT seasons to be looking: prices are lower and you will have less buyers to compete against when you find a home you like. Additionally, interest rates (below) are back to their lowest levels in years as a result of the concerns about the global economy. Take advantage of lower prices and lower interest rates and let us help you get into a great new home before the holidays.



** Table from CNBC.com on October 7, 2019 showing 10-year US treasury rates year-to-date. The pace of home sales in Denver tends to increase in the months following drops in rates. Also, rates are back to the lowest levels in years this fall and suggest a great time to look for a new home. **
Residential Real Estate Supply in Denver…
As of the end of September, the number of active homes on the market in Denver metro was only up ~3% year-over-year. You will notice on the dashboard that we had materially higher supply levels for most of the last twelve months up to this point. That supply increase started last August and it's now been over a year in market conditions with those higher supply levels; even with those higher supply levels, the sky isn't falling, yet.

Also, there still exists a dichotomy between that detached ("normal") homes and attached homes like duplexes, condos, townhomes, etc.
Median Days on Market: 13 (det) vs. 17 (att)
Year-Over-Year Supply Increase: -3.0% (det) vs. 11.4% (att)
Sold Unit Growth YoY: -0.8% (det) vs. -2.0% (att)
Prior to the universal supply shift last year, we were paying very close attention to the differences between the two market segments and we believe this theme will continue to present. The attached segment of the market has been softer for a long time and the environment contributing to that weakness has not changed. Land is still very expensive, construction costs are expensive, and the trend to increase density with attached units is still the most economically viable.
Let's put it all together…
We're not calling an end to the Denver residential real estate cycle. Even though it's hard for me to understand where some buyers are finding the income/cash to afford mortgages, homes are still not staying on the market long enough to think that annual price appreciation trends will reverse in the next 12 months. There are currently 3,861 active listings within a 10-mile radius of downtown Denver and we would need an additional 4,000+ new listings to hit the market overnight to shift into a neutral market.

However, this is also the time of year when our future clients and prospects tell us they are waiting until spring because they expect to make more money than selling in the fall. While historically that is true, we are approaching this spring with caution and encourage you to follow our lead. First, it will be really hard to continue to pushing pricing significantly higher without a material increase in median wages or continued interest rate declines. Second, people are getting "smart" to listing in the spring. Here is a graph of the number of new listings by month over the last five years: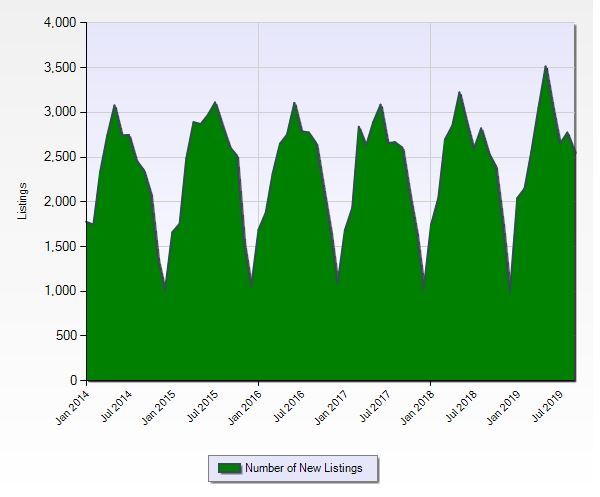 You might notice how the peak of new listings in spring 2019 was higher than 2018 which was also higher than years past. When it becomes such "standard knowledge" that you need to hold off selling until April/May, our market experience suggests it will not go as smoothly. The increased inventory contributed to longer days on market and less price appreciation which we believe will carry into 2020.